Dude, Where's My Muse?
Thursday, January 10, 2008
Thursday Thirteen
First one of 2008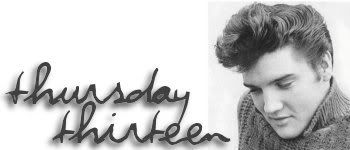 Thirteen Goals for 2008

1. Revamp and makeover blog (so if you know of any great free template sites, send them my way!)

2. Break out of my shell - be more talkative on the loops; boards; whatever

3. Start and finish 3 new projects

4. Catch up on my pile of review books

5. Get to at least one more game this hockey season

6. Go to at least one concert

7. Be more confidant

8. Spend more time outside this summer

9. Relax more

10. Learn to stop worrying as much

11. Bowflex my new BFF

12. Take a vacation

13. Learn something new


Links to other Thursday Thirteens!

(leave your link in comments, I'll add you here!)


Get the Thursday Thirteen code here!


The purpose of the meme is to get to know everyone who participates a little bit better every Thursday. Visiting fellow

Thirteeners

is encouraged! If you participate, leave the link to your Thirteen in others comments. It's easy, and fun! Be sure to update your Thirteen with links that are left for you, as well! I will link to everyone who participates and leaves a link to their 13 things.

Trackbacks

, pings, comment links accepted!

View More Thursday Thirteen Participants


Labels: Thursday Thirteen
posted by Lis at
1:36 p.m.